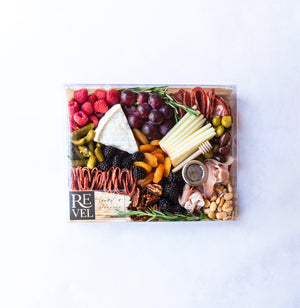 R E V • E L
to enjoy oneself in a lively and noisy way, especially when drinking and dancing
Revel Board + Beverage creates delicious, carefully curated grazing boards and grazing tables perfect for parties, weddings and corporate events. Grazing boards can be customized for any occasion and dietary restriction, including gluten-free and vegetarian. Revel also offers full-service bar catering, including alcohol, bar staff, mixers and more.
OUR LOCATION
350 US-1 • Suite 1A
Yarmouth, Maine
207.671.9672
*hours are varied, email is the best way to reach us!
PARKING:
The spots marked '1A' are ours. Please only park there when picking up your boards, the rest of the spots are reserved for other businesses and residential tenants. If there is no available parking you can park next door in the mortgage office lot.